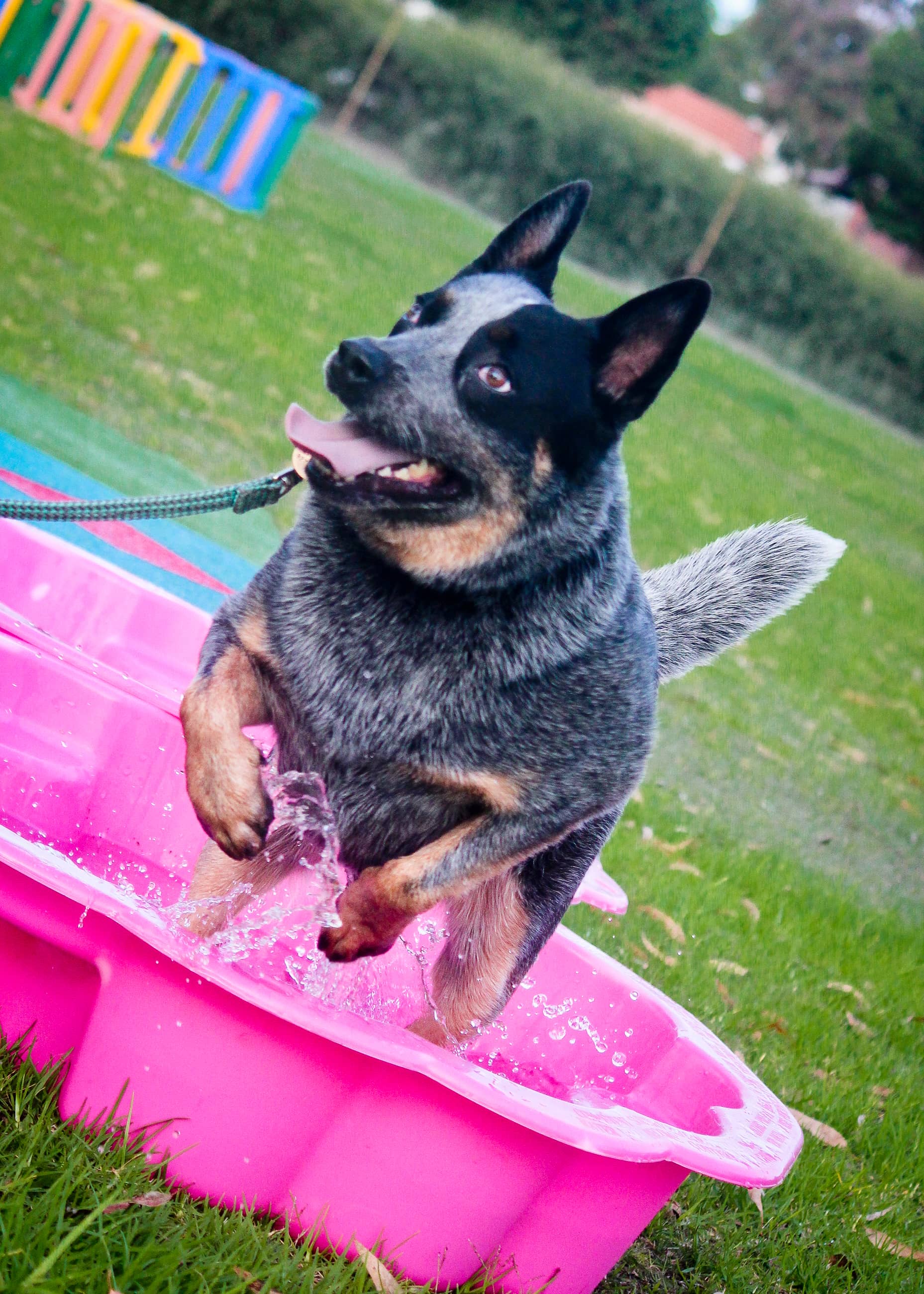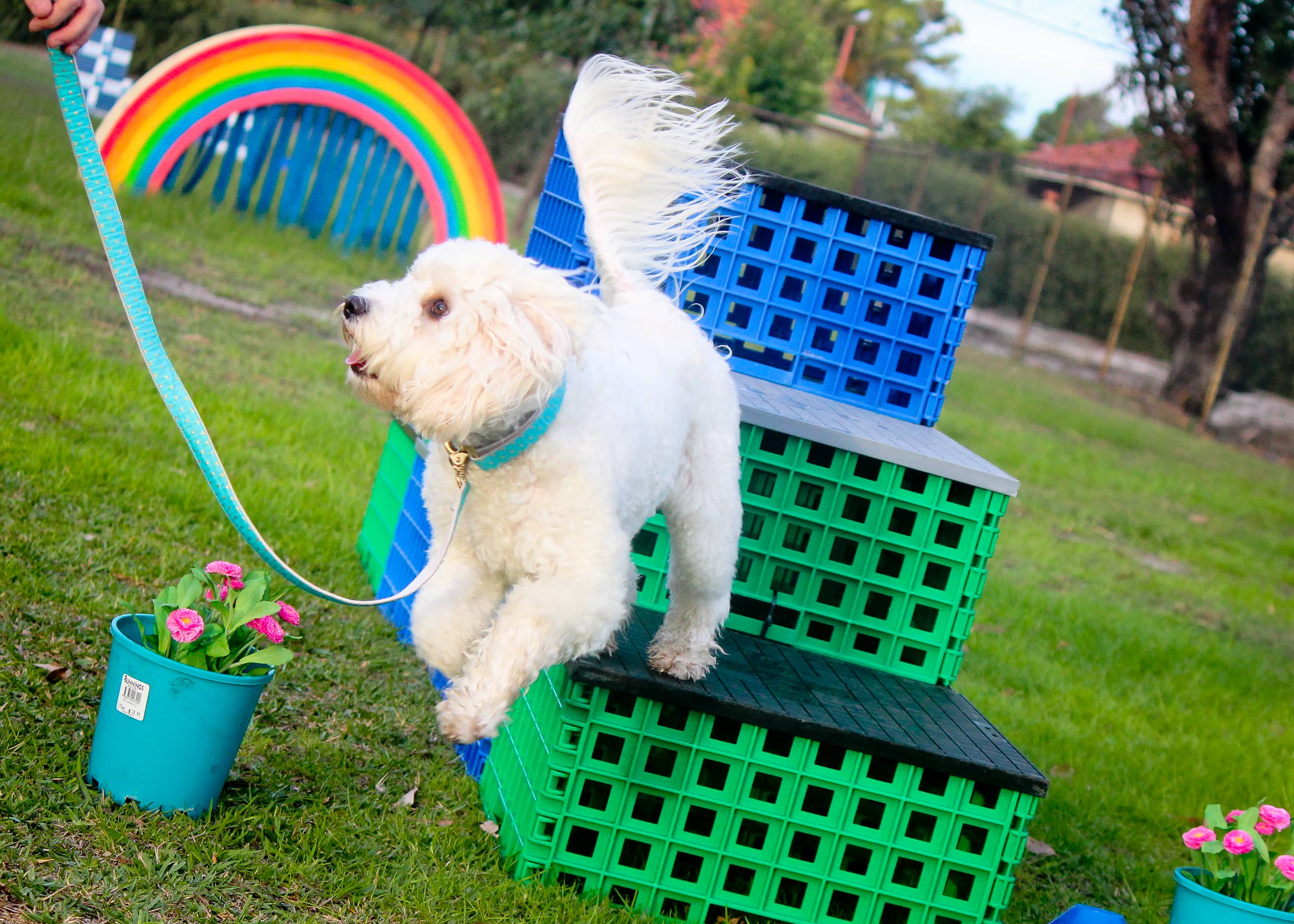 A short story about the course
The course consists of 20 novel obstacles which the dog and handler negotiate and complete together. It is a non-competitive sport, focusing on teamwork between dog and owner, and having fun! The course is completed ON LEAD allowing dogs of all training abilities to join in. There is also the option of including a separate class for 'advanced' dogs, who may complete the course off lead.
The event has been held at local parks but has also been modified successfully to fit in a smaller area when running the course at dog events, family day outs or at an indoor training facility.
As local dog events become increasingly popular, the Canine Adventure Course can be used as a featured activity for dogs to participate in. Dog events provide owners with many stalls, food vans, dog training demonstrations, entertainment and presentations to enjoy. The Canine Adventure Course is for the dog to enjoy!
The obstacles used come from a range of backgrounds. Dog agility equipment (on low training heights), children's play obstacles (ball pits, tents etc.), as well as modified 'equestrian cross-country' obstacles including hay bales, log piles, tires and poles. There is a selection of obstacles (all of which can be sourced or built relatively cheaply) to choose from, ensuring each event has something fun and novel for the dogs to tackle.
Who can run a Canine Adventure Course?
Professional dog trainers
Dog clubs
Rescue organisations
Breed groups
Dog interest groups
Local councils
Community groups
Running a Canine Adventure Course can provide a fabulous avenue to:
promote your business
fundraise for a worthy cause
deliver a fun and engaging event for your clients/members
provide your local dog owning community with a 'novel way to play' with their dog!
The book will give you an easy to use formula for creating and running your own Canine Adventure Course. Key topics include:
Before the event:
Promotion
Sponsorship
Bookings
Sourcing obstacles
Price structure
Course design
During the event:
Organising the day
Dog suitability
Rules and safety
Reading dog body language
Managing dogs and handlers on course
The Course Manual Includes:
Comprehensive Ebook covering all aspects of running and coordinating a Canine Adventure Course (96 Pages)
High Resolution Canine Adventure Course Logo
High Resolution Canine Adventure Course Banner
High Resolution Canine Adventure Course Rules
5 High Resolution Canine Adventure Course Photos
Laura has a keen interest in the importance of play and how it can develop and enhance the bond between a dog and owner. Incorporating fun and engaging training exercises into training classes has been Laura's strongest focus as a pet dog trainer.
Laura has worked at Morley Vetcentre in Perth, Western Australia for 21 years and works closely with her boss, Veterinary Behaviorist Dr Gibb Macdonald. Laura is a Certified Professional Dog Trainer (CPDT–KA) and Delta Accredited Behavioral Trainer. She is also a member of both the Association of Pet Dog Trainers (Australia) and the Pet Professionals Guild. Laura is a regular presenter to pet industry professionals (Veterinary Nurses Council of Australia, Australian Veterinary Association and Association of Pet Dog Trainers) as well as her local community, often attending community and dog events to present on dog training, dog behavior, dog park etiquette and how dogs communicate.